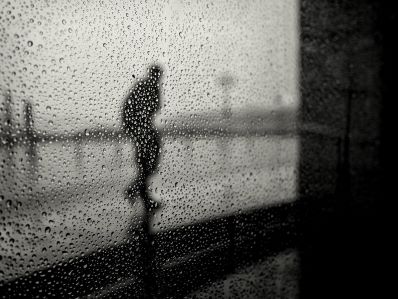 DECEMBER 2016
Poem of the Month
At that Leicester Cafe
'Morning Ali Adnan ! How's it going ?
Happy now ?' (Suds pop on his hands).
'Life !' (He smiles). 'Ah, who understands ?
Take five, man. Have a coffee. Look, it's snowing.'
We sit and watch. He used to be the waiter.
CRASH ! He broke the plates, he dropped the trays,
he lost the bills, he squashed the takeaways,
he wrecked my lovely Clover Percolator …
Slurp … he gulps. I made him do the dishes.
Slurp … he grins. He loves it. Drifts of froth
wobble round our snowy tablecloth.
He toddles off. The Maidaid clonks and swishes.
I used to can sardines in Galilee.
I guess we end up where we're meant to be.
What's Afoot ? Top Ten
1. Go to STAND magazine's website (www.standmagazine,org) for 4 love poems.
2. Completed Mad John's Walk, following John Clare from the Asylum in Epping Forest to his home in Northborough. He did 80 miles in 2 days, I did 145 in 5 days, not being able to use the A1, as he did, and stay alive.
3. Five Leaves Left, of Nottingham (www.fiveleaves.co.uk) have published an 'Occasional Pamphlet' of the account of Mad John's Walk : poems included. Presently available copies sold out (see No.3) : official launch with print run in January 2017 @ Five Leaves Bookshop, Nottingham. Copies can be ordered from Five Leaves.
4. Thanks to the English Association students for putting on the reading of 'Mad John's Walk' event at The Exchange, Leicester : at which we sold out of available copies ... more to come, see No.2.
5. 'The Short Afters of Noah Claypole' is with an agent (serialization halted !)
6. Carcanet are to publish 'The Little Sublime Comedy' in June 2017 (see schedule and catalogue @ Carcanet www.carcanet.co.uk )
7. Completed the final draft of a novel called 'Bush Bastards', an En Zed, 19th Century horror of gold, treachery, betrayal, treachery, madness, treachery, and lots of greenery. With an agent.
8. 'Into the Void' anthology contains 'The Cuban Literacy Drive and the 8 year-old Professor'
9. Both 'Pacifictions' and 'Fucking Poets' have sold out. Thank you, Cold Hub Press NZ.
10. Go to YouTube for 'Paterau Sonnet', 'The Blobfish Sings Under the Sea'. 'Down Tallapike', 'Funeral at Salem'.
Complete Book List
Practical Anarchy (Carcanet)
Flying Carpets Over Filbert Street (Carcanet)
Grrrrr (Carcanet)
Resistance is Futile (Carcanet)
The Ballad of Robin Hood and the Deer (Agraphia Press), pictures by Clifford Harper
The Ballad of Santo Caserio (Agraphia Press), pictures by Clifford Harper
The Song Atlas (Carcanet)
Star City (Carcanet)
The Book with Twelve Tales (Carcanet)
Fucking Poets (3 vols) (Cold Hub Press NZ)
40 Lies (Carcanet) pictures by Sarah Kirby
Fresh Air & The Story of Molecule (Carcanet)
52 Euros (Carcanet)
Pacifictions (Cold Hub Press NZ)
The Alphabet of Ugly Animals (Magpie Press)
Mad John's Walk (Five Leaves : Occasional Pamphlets) January 2017
The Little Sublime Comedy (Carcanet) to be published June 2017
Contacts
John Gallas Poetry www.johngallaspoetry.co.uk
Carcanet www.carcanet.co.uk
Carcanet blog www.carcanetblog.blogspot.co.uk
John Gallas Facebook
Cold Hub Press (NZ) www.coldhubpress.co.nz
Five Leaves Left publishing/bookshop (Mad John's Walk) www.fiveleaves.co.uk
Agraphia / Clifford Harper www.agraphia.co.uk
YouTube (Paterau Sonnent / The Blobfish Sings Under the Sea)
STAND Magazine www.standmagazine.org