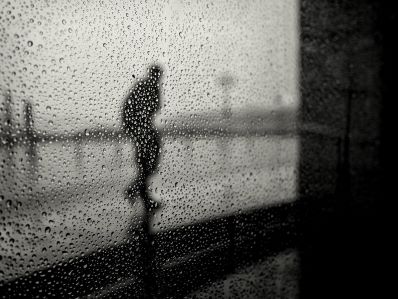 poem for August 2016
a visit from Grossmutter's ghost
Substantial for a spook, she looked me up
one cold weekend when, sick with hours ill-spent,
I sought the buried spring of discontent.
'Would you be heppy up a mountain ?' 'Yup.'
'Mit crrrampons ?' 'Yup.' 'Und goggles ?' 'Yup.' She smiled.
I turned the tv off. 'Und so was I.'
She shook her climbingskirts. I asked her why.
'Because,' she said, 'you are the pregnant child
of forty tribes of sinews, boots and sky,
whose strident habits thickened into fact,
and joined our genes.' The ice of Heaven cracked.
She hupped her skirts and rope. 'Und so, goodbye.'
Outside, my children climb the family tree.
I put my boots on. Snow entangles me.
*
What's Afoot ? Top Ten
1. St Magnus Festival Poet 2016 : three packed readings, a student workshop, premiere of 'The Iris Murder' (Alasdair Nicolson music, John Gallas libretto), interviews, stage Q & A session, photos, and lots of books sold.
2. LCFC Championes Rap now on You Tube ... just enter 'John Gallas Leicester City Championes Rap' !
3. Planning to Do Mad John's Walk (John Clare's walk from the Asylum in Epping to Northborough), perhaps in August. Clare-brain and Clare-feet in training. Poems and Observations along the way.
4. Won the Swansea Writers' Horror Poem Competition (see John Gallas videos on You Tube, 'Miser's Sonnet')
5. Carcanet have taken 'The Little Sublime Comedy' for book publication in July 2017.
6. Attempting prose : a picaresuqe, unpleasant short novel about the brief life of the 'orrible Noah Claypole after the end of 'Oliver Twist'
7. Both 'Pacifictions' and 'Fucking Poets' have sold out. Thank you, Cold Hub Press NZ.
8. DIY translation and audio of Xirinachs' poem 'A Plate of Olives' can be accessed at Modern Poetry in Translation. Samoan Children's poems, and poems of Leon Laleau also available.
9. Go to YouTube for 'Paterau Sonnet', 'The Blobfish Sings Under the Sea'. 'Down Tallapike', 'Funeral at Salem'.
10. Look out for 'Contrappasso : Long Distance' publication from Australia, with 'Elvisits' and 'St. Egg'.
Complete Book List
Practical Anarchy (Carcanet)
Flying Carpets Over Filbert Street (Carcanet)
Grrrrr (Carcanet)
Resistance is Futile (Carcanet)
The Ballad of Robin Hood and the Deer (Agraphia Press), pictures by Clifford Harper
The Ballad of Santo Caserio (Agraphia Press), pictures by Clifford Harper
The Song Atlas (Carcanet)
Star City (Carcanet)
The Book with Twelve Tales (Carcanet)
Fucking Poets (3 vols) (Cold Hub Press NZ)
40 Lies (Carcanet) pictures by Sarah Kirby
Fresh Air & The Story of Molecule (Carcanet)
52 Euros (Carcanet)
Pacifictions (Cold Hub Press NZ)
The Alphabet of Ugly Animals (Magpie Press)
Contacts
John Gallas Poetry www.johngallaspoetry.co.uk
Carcanet www.carcanet.co.uk
Carcanet blog www.carcanetblog.blogspot.co.uk
John Gallas Facebook
Cold Hub Press (NZ) www.coldhubpress.co.nz
Agraphia / Clifford Harper www.agraphia.co.uk
YouTube (Paterau Sonnent / The Blobfish Sings Under the Sea)