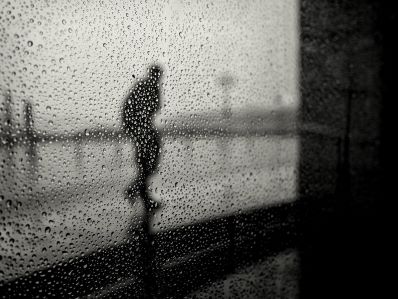 prose-poem for July 2017
Ruby Bay : opposite bearings
'a drowning man is not concerned with rain'
Me and Eggy went out in Pa McBain's dinghy for a laugh. We said we were looking for hapuku, but we never took any lines or anything. The sea looked like a big blue ploughed field. It was all inky with the shadows of the rainclouds. Eggy stood up and did the Mashed Potato in the splotted thwarts, and I fell out laughing. Right bang splash in the ocean.
It was pretty dark. There was a kind of hiss. The bottom of the boat disappeared. I thought I was sinking : then I didn't know what way up I was. All I could see was there was a dark stretch and a light stretch. So I swam for the light part. Nothing happened, except the hiss went away. So I turned round and swam for the dark bit.
Whoosh ! I came up OK. There was this massive black cloud upstairs growling like a tractor, and it was raining big white globes. I was really gasping. Eggy rowed back to get me. He thought it was really funny. He said I had really white knees. We told old Pa McBain we got lots of hapuku for dinner, but there was only enough for us. He said any time.
Eggy said actually I was lucky. I said I'd like to know what was shining in the deep bit.
*
What's Afoot ? Top Ten
1. 'The Little Sublime Comedy' due out from Carcanet in June/July. Proofs done, cover being decided.. See schedule and catalogue (www.carcanet.co.uk)
2. Official Carcanet launch in September, in Norwich bookshop : details forthcoming.
3. Look out for Interview and poems Back Home (NZ) @ SPINOFF (www.thespinoff.co.nz) courtesy of Bill Manhire
4. Won the Indigo Dreams pamphlet competition with '17 Very Pacific Poems' : to be published by them in August.
5. Thanks to Five Leaves Bookshop, Nottingham, for publishing 'Mad John's Walk' which is available there, or by post. ph 0115 8373097 / email bookshop@fiveleaves.co.uk / www.fiveleavesbookshop.co.uk or from me (john.gallas@btinternet.com)
6. Go to STAND magazine's website (www.standmagazine,org) for 4 love poems, and, forthcoming, translations of Joachim de Bellay.
7. 10 'picto-pomes' completed during residency at Stiwdio Maelor, Mid-Wales : undergoing fine-tuning.
8. Both 'Pacifictions' and 'Fucking Poets' have sold out. Thank you, Cold Hub Press NZ.
9. A double Pre-Raphaelite Society Prize : (www.pre-raphaelitesociety.org) : published this month in 'Pre-Raphaelite Review'
10. Go to YouTube for 'The Blobfish Sings Under the Sea'. 'Down Tallapike', 'Funeral at Salem'.
Complete Book List
Practical Anarchy (Carcanet)
Flying Carpets Over Filbert Street (Carcanet)
Grrrrr (Carcanet)
Resistance is Futile (Carcanet)
The Ballad of Robin Hood and the Deer (Agraphia Press), pictures by Clifford Harper
The Ballad of Santo Caserio (Agraphia Press), pictures by Clifford Harper
The Song Atlas (Carcanet)
Star City (Carcanet)
The Book with Twelve Tales (Carcanet)
Fucking Poets (3 vols) (Cold Hub Press NZ)
40 Lies (Carcanet) pictures by Sarah Kirby
Fresh Air & The Story of Molecule (Carcanet)
52 Euros (Carcanet)
Pacifictions (Cold Hub Press NZ)
The Alphabet of Ugly Animals (Magpie Press)
Mad John's Walk (Five Leaves : Occasional Pamphlets) January 2017
The Little Sublime Comedy (Carcanet) to be published June 2017
17 Very Pacific Poems (Indigo Dreams) to be published August 2017
Contacts
John Gallas Poetry www.johngallaspoetry.co.uk
Carcanet www.carcanet.co.uk
Carcanet blog www.carcanetblog.blogspot.co.uk
John Gallas Facebook
Cold Hub Press (NZ) www.coldhubpress.co.nz
Five Leaves Left publishing/bookshop (Mad John's Walk) www.fiveleaves.co.uk
Agraphia / Clifford Harper www.agraphia.co.uk
YouTube (Paterau Sonnent / The Blobfish Sings Under the Sea)
STAND Magazine www.standmagazine.org